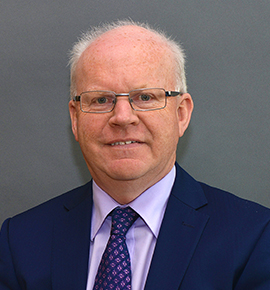 Audit, Assurance & Advisory
Robert was a founding partner of DHKN and previously acted as the firms Head of Compliance.
Robert has extensive experience working with the firm's large client companies and groups and high net worth individuals and advises in all areas of Accounting, Auditing and Financial Management. His areas of expertise includes:
Compliance and Assurance engagements
Quality Assurance
Strategic Planning
Audit & Internal Audit
Efficiencies and Profit Enhancement measures
He also has a keen interest in providing professional services to Charities, Credit Unions, Marts, and Not-for-Profit Organisations.
Robert is a fellow of the Institute of Chartered Accountants (FCA) and has been awarded a Certificate in UK and Irish GAAP. He is also an affiliate of the Institute of Internal Auditors and is an accredited Pension Trustee. He serves on the Chartered Accountants Ireland Western Society committee and is a member of the NUIG Master of Accounting Joint Board.